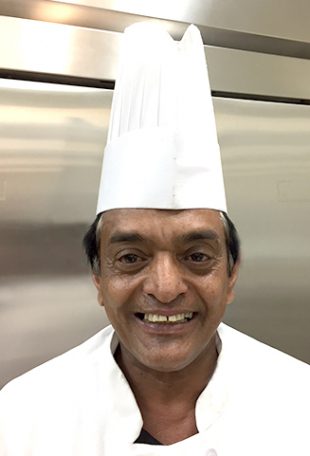 Modesto Elks Lodge 1282, Charity Way Banquet Hall, proudly introduces Umesh Chand, our Executive Chef.

Our executive chef is imminently qualified to provide you and your guests with a culinary experience that will ensure your event is a successful and memorable one.  His culinary education was at the University of South Pacific, where he earned a Diploma in Food Science, National Chefs Trade Certificates 1, 2, and 3, and a certificate in Food Safety Management.  He is a Gold, Silver, and Bronze medalist in international Fiji Hotel Competitions.
His previous career resume includes employment at the most prestigious hotels in the world, such as the Hilton, Sheraton, Marriott's, and Shangri-La's Hotels in the Philippines, Hong Kong, Malaysia, Guam, Canada and Fiji.  His career included employment for German, Swiss, Japanese, Australian and New Zealand restaurants, so he is extremely versatile and can create many specialties.  His favorite dishes include all aspects of French cuisine, including elegant French sauces.  He can create stunning table centerpieces from fruits and vegetables to make your event one your guests will always remember.